The following is a brief excerpt from Robin's novel.
Part 1: New York

Chapter One
It was as if I just woke up. From a nightmare I couldn't quite remember. It was like returning to the light from some dark place, out of some bottomless pool of darkness. Suddenly I was standing in Grand Central Station, I was leaning back against a wall and there was a dead bird at my feet. For just a second I thought I was still in the nightmare but then at once I knew I wasn't. You can tell if you're awake or not for Christ's sake. Then I realized I couldn't remember anything, not even my own name or how I got there or why. I felt myself beginning to black out again but I held on, I was aware of the noise and the crowds and the strewn wrappings and the dead bird. It looked like a pigeon but it was very dark, almost black, almost like a crow. But I know crows and I know pigeons. And I had been here before because I knew it was Grand Central Station and I knew it was in New York City. The bird looked as if it had been dead for some time but maybe it had just got kicked around. I had a handbag clutched tightly in my right hand.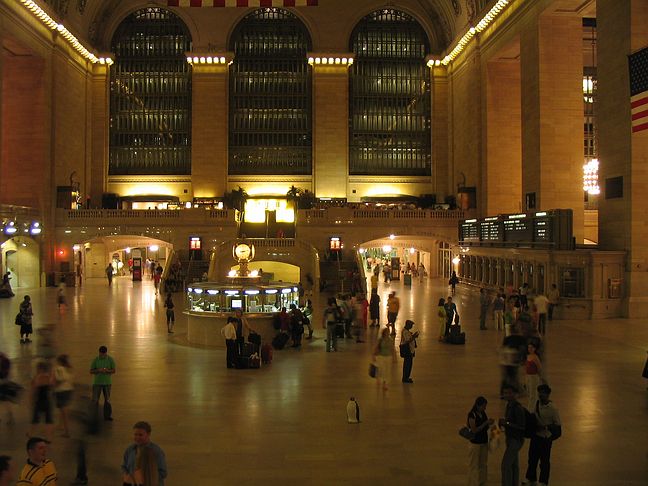 I looked up and looked around and met people's eyes, the ones who were looking at me a bit oddly as if there might be something wrong with me or perhaps I shouldn't be there. They looked away quickly and moved on. How was I feeling? … I felt frightened but very calm, as if it was all over and nothing else could happen to me. Two people stopped, a husband and wife I guessed, and whispered to each other about me, the woman looked worried. I thought maybe I should ask them something to reassure them, like what time it was, but the man took her arm and said something and they hurried on. Another man had stopped a bit further off and he was staring at me, I thought for a moment he must recognize me but how would someone who knew me just happen to turn up. He was tall and blonde, handsome I suppose, but I didn't like him, I know something about strange men coming up and talking to you, so I looked away quickly and pretended to brush off my skirt. I wondered why I didn't have any luggage because surely I must be going somewhere, to get away. And was it winter or summer because I didn't have any warm clothes. Winter. I was cold, as if I'd just come in from outside. Other people had coats, wearing them or carrying them – heavy coats. Did I have any money? … I patted the side pocket in my skirt and felt a bulge, I slipped my hand in but it was just some crumpled paper handkerchiefs. The man was still standing there looking at me. Probably a pickpocket but he was well dressed, a bit rumpled. I glared at him and he looked embarrassed and turned and walked off. I watched till I was sure he'd gone, then I snapped open the clasp on the handbag, I suddenly realized it must have my I.D. stuff in it. I found some money, twenty dollar bills and some tens, neatly folded, but nothing else, the various compartments were all empty. So I wasn't destituted or whatever the word is. I didn't want to take the money out and count it out there where that man might be watching or someone might grab it and run so I decided to find the ladies.
I looked all around. That place is scary, so much space, so many people, everyone rushing and jostling each other. There was a clock saying quarter to five … in the evening I thought, because of all the people, probably just come from work. With homes to go to mostly … I thought perhaps I must have been going somewhere, but I didn't think I was going home, running away from it more likely. But I must have been going to catch a train. But where to? I felt very young suddenly, a little girl lost in a noisy crowded wilderness, how old was I? Not that young. I could tell I wasn't very tall but it wasn't because I was a child. There'd be a mirror in the ladies.
I gave the bird a nudge with my foot, I suppose to make sure it was really dead, and moved away from the wall out into the crowd. I would have to ask someone. But they all seemed in such a rush. I picked out a well-dressed lady in a very smart navy suit and permed blonde hair carrying a briefcase and pausing to look at her watch then look around, she didn't seem to be in such a hurry and I edged between people towards her, putting on what I thought was a nice smile and stopped in front of her. I felt suddenly scared and a bit ashamed because her clothes were so smart and I was dressed in some nondescript brown-and-white-checked skirt and a grey wool sweater more like a little girl's stuff. She stared straight ahead then turned her head away. She seemed terribly pale but I think it was powder. I touched her sleeve and she stared down at me. 'Excuse me,' I said, 'I wonder if…' She was looking at me as if I was something the cat dragged in, someone said that once somewhere, I heard a woman's voice, elderly, my mother? some old servant? Suddenly a story about myself began to form, after all I was just a child, a thirteen-year-old running away from home or reform school or something, no wonder she didn't like speaking to me. She gave what I suppose was a smile though it was only her mouth. 'Yes?' 'I'm looking for the ladies.' 'The…? Oh. The washroom. Well, why not just follow the signs.' She pointed, there was a sign saying washrooms, of course that's what they call them, we always said toilets … We. I had no idea who We were. I said thank you and followed the arrow. But, as I looked around, I saw that tall blonde man again, he had a moustache, he was still looking at me only this time he smiled. No thank you I thought. Not tonight. Nor any other.
The washroom was crowded. I went over to the washbasins first and looked at myself in the mirror. No great surprises. I was older than I'd thought, not some luscious blonde like Marilyn Monroe or someone but exactly what I'd expected, short, dumpy, with straight mousy coloured hair, shoulder length. I thought, Well, at least it's cut straight now, then wondered what I meant by now. I wasn't ugly exactly, just plain. Which made it all the more sinister that that man had been looking at me. Some kind of predator. At least I wasn't a kid, I looked to be in my twenties. So they couldn't come and drag me off to some home or anywhere I didn't want to go. As long as they didn't realize that I'd probably gone crazy and put me in one of those straight jackets. Or if I'd committed a crime …
The cubicle at the end was empty and I rushed over to it, just beating out an older woman who glared at me and I knew I should have let her go first but I didn't. I sat on the toilet and relieved myself and opened the handbag again and pulled out the bills. There were six twenties and five tens. They looked almost new but a bit faded. Later I would try to figure out how I got them, but at least I could go to wherever I was going. Then I examined the handbag, it was of leather, smooth and soft, expensive, yet my clothes were very ordinary, cheap and rather worn.
I went out and looked around for the man but he'd given up and gone. Oddly I felt a bit sorry, though mostly relieved. He was the only person who'd shown any interest in me, even if it was the wrong sort. I wondered if I'd ever been so entirely alone before and decided that I had, often. It felt familiar.
So what next? I just stopped and stood there, amongst all the people, getting in their way. I hated that place. But the last thing I would do was ask for help because they'd lock me up which would be much much worse.
There was a bench nearby, rows of benches, mostly occupied. I found a place and sat a moment trying to collect my thoughts which were frankly not worth collecting, ha-ha. I tried to concentrate on where I had to go. First, make your mind a blank. Then wait till something useful pops in, because nature abhors a vacuum. So I sat and waited.
What popped in was Ingrid Bergman. She was in some movie with Cary Grant and they had amnesia … No, she had amnesia … No, he had amnesia. Like me. And they had to go somewhere and he couldn't remember, so she made him line up at the ticket place and told him it would come to him at the moment when he had to say it. So he stood there grinding his teeth and getting nearer and nearer, and suddenly he remembered and they went there and went skiing. I didn't think it would work but it was better than sitting there doing nothing except get more depressed. The worst I could do was make a fool of myself and something told me I'd done that already many times.
I joined the longest line because I thought the more time I take the more likely I'll remember. There was a middle-aged woman in front of me who kept smiling at and talking to a man with two small kids, holding one by the hand and one in his other arm, a boy and a girl respectfully. The girl was no more than a baby and he jiggled her up and down while the boy bounced about clutching his private part saying, Dad I gotta pee. In a minute Danny. When mother gets the tickets. More people joined on behind me and the line seemed to be dwindling very rapidly, I'd never known them so quick. I began to panic, I knew I wouldn't remember and I'd just be holding everyone up. I said to the woman in front, 'Are you going away?' and thought what a stupid thing to say to anyone.
She didn't seem to mind. She turned her head and smiled and said, 'Off for a family Christmas in Ann Arbor. We're staying with his mother.' I looked at the man and he smiled absently at me, concentrating on the kids. 'And her folks,' she added. 'It's a large family. Lots of company, lots of kids. We do it every year.' I couldn't tell if she was really happy about it.
I wanted to ask about Christmas. Somehow it was not a word I liked but I knew I was supposed to, a time when everyone was happy and they all love each other and give presents. I just said, 'Yeah, Christmas already. Time really flies.'
'Just six days to go.'
She smiled at me and turned away. There was only one man in front of her now, arguing noisily about a fare. I hoped he would take a long time as not a single idea had occurred to me so far, not a word, not an image. I felt myself beginning to panic. I glanced back at the line, there must have been at least twelve people behind me, impatient. I saw myself having some kind of breakdown and they would drag me off screaming.
The woman was at the window, saying, 'Ann Arbor please. Two adults and two kids under twelve.' The man gave her the tickets much too quickly with no conversation at all, and she thanked him and turned away and smiled at me as she went back to her husband.
I went right up to the window and smiled and took out the purse and pulled the notes out just a little way so he could see them. He had a kind sort of face but his smile looked a bit fixed and tired and I could feel the pressure of the line behind. I met his eyes then looked down again at the twenty-dollar bills and opened my mouth and closed it again. I couldn't think of a single name of anywhere. 'Well, lady?' he said. 'What'll it be today?'
I wondered for a moment if he knew me, perhaps I came here every day, but then I decided it was just a way of talking. 'I want a ticket,' I said.
He raised an eyebrow. 'That's about what I figured. We don't sell ice cream.'
'A round-trip ticket.' I felt proud at getting it right.
He was trying to be patient but I could see it was an effort, and I heard whisperings behind me. 'Yes, ok, but I shall need to know the destination.' He said it slow, he thought I was half-witted.
My fingers were twisting the edges of the notes. I pushed them back down then I looked up and met his eyes. This is it. This is where you remember. Where did Cary Grant go?
'Well?' It no longer sounded patient.
Say the first thing that comes into your head. 'Castleton Springs,' I said, and immediately felt confident.
'What?'
'Castleton Springs.' I spoke up clearly, smiling. 'I want a … a round-trip ticket to Castleton Springs.' My voice was loud and firm, I wanted the whisperers to hear it too.
He sighed an exasperated sigh. 'Lady, there ain't no such place. Leastways, not that trains go. What's the closest big town?'
I realized my mouth was hanging open, my hands were crumpling the purse and the notes, he must think I'm retarded. 'I … I …'
I knew tears were coming and I turned away abruptly. The tall blonde man with the moustache was standing beside me. 'Are you all right?' he asked me.
Looking down at the floor I said, 'Yes I think so,' and burst into tears.